Well this is like the first ever post.. ever. and still I got 35 members ♥ Thank you guys ! So now, I present a little post filled with awesome for ya'll. I hope you guys like it :)
PROFILE CODE UPDATED 10•07•08: less bright colors!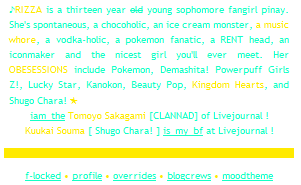 profile code:
a bit simple but i like it ♥ if you want you could change the colors, but credit to the base codes still goes to me ;)
lucky☆star icons&an fobanner:
friends only banner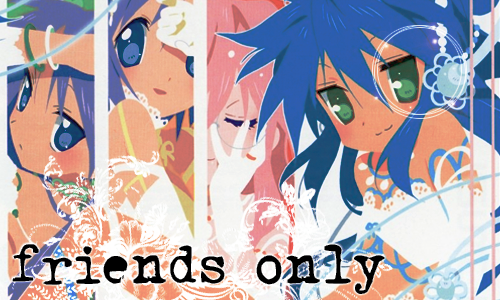 rules:
♪ read the
MAIN RULES
first
♪ credit goes to
rizuza
♪ upload to your own servers pl0x !
♪ join&watch to receive updates ♥
updates:
i'll be posting blogcrews and other crap here too. and i'm thinking of adding another graphic-er or whatever too :3 what do you think?
Current Mood:
creative